Watch Video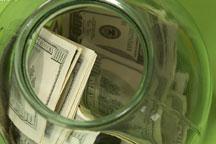 Play Video
Quantitative easing, or QE, is an unconventional monetary policy used by central banks to stimulate the national economy by pumping more money into the financial system, when conventional monetary policy has become ineffective. The US federal reserve has launched three rounds of Quantitative Easing since the financial crisis hit in 2008.
In 2008, Federal Reserve Chairman Ben Bernanke made his first step on the QE ladder. The goal -- to increase capital liquity on the market and create more economic activity.
QE1 was formally launched in December 2008. The Fed purchased up to 600 billion dollars in agency mortgage-backed securities, or MBS, and agency debt.
In March, 2009, the Fed extended the program until March 2010 with further purchases.
During QE1, the central bank purchased a total of 1.25 trillion dollars worth of agency MBS and agency debt, and 300 billion dollars in Treasury securities.
After QE1 ended, many experts expected the economy to sputter to life and for mortgage rates to rise. Instead, mortgage rates tumbled.
The Fed then enacted QE2. Between November 2010 and June 2011, the central bank purchased 600 billion dollars of longer dated treasuries.
In September 2012, QE3 was announced. This time, it was open-ended.
The Federal Reserve said it would pump 40 billion dollars a month to purchase MBS until the labor market improves susbstanially.
This was in addition to Operation Twist, where the Fed swaps short-term Treasuries for long-term Treasuries.
To date, the Fed's portfolio totals nearly 2.9 trillion dollars - more than three times its size before the 2008 financial crisis.
Inside and outside the Fed, a debate has raged over whether the Fed's actions have helped support the economy over the past four years, whether they will ignite inflation later and whether they should be extended.
Skeptics note that rates on mortgages and many other loans are already at or near all-time lows. So any further declines in rates engineered by the Fed might offer little economic benefit.
Related stories
Editor:Qin Xue |Source: CCTV.com