Watch Video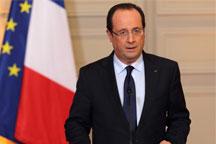 Play Video
France's Foreign Minister, Laurent Fabius, has confirmed France has sent troops to help Mali stop the advance of Islamist rebels. The show of support comes as Mali declared a state of emergency.
The Mali government declared a nation-wide state of emergency after rebel forces that control the north of the country continued to move south. French troops have responded by conducting military operations against the Islamist extremists, alongside forces from the West African bloc.
French President, Francois Hollande, says the action is necessary to help rid Mali of its terrorist element.
Francois Hollande, French President, said, "Mali is facing an attack of terrorist elements coming from the North, while the whole world wants the brutality and the fanaticism to stop. Therefore today the very existence of this state friend, Mali, and the security of its population, as well as protecting our own population, is at stake. There are 6,000 French people there. Therefore I have responded to the demand of the President of Mali, supported by the West African countries. Accordingly, the armed French forces have brought this afternoon their support to the Malian units to fight against these terrorist elements. This operation will take whatever time is necessary."
Related stories
Editor:Wang Chuhan |Source: CCTV.com