Watch Video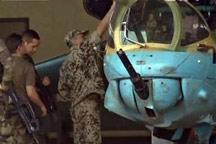 Play Video
President Francois Hollande has said France will end its intervention in Mali and pull its forces out once the West African country has regained stability. He said this would be helped by the arrival of soldiers from Mali's neighboring nations.
French President Francois Hollande said, "As soon as there is an African force in the coming days or weeks, and once this African force is supported by the international community and by Europe, France has no "vocation" to stay in Mali. We have, however, one goal - through the goals I presented - to ensure that when we leave, when we end our intervention, Mali is safe, has legitimate authorities, an electoral process and there are no more terrorists threatening its territory."
A French military official said a column of French armoured vehicles has left the Malian capital Bamako, heading north towards territory controlled by Islamist rebels. It was the first such movement since France began a military operation on Friday.
The chief of staff for the French armed forces said France is ready to pursue militants on the ground with armoured vehicles, in addition to the airstrikes already under way.
French warplanes and helicopters carried out 50 sorties of strikes after Islamist rebels seized the central city of Konna.
French Defence Minister Jean-Yves Le Drian said that 1,700 French troops were involved in the operations, 800 of them on the ground. He said Malian forces had not yet retaken Konna, which is a gateway from the rebel-held northeast to the capital Bamako.
Related stories
Editor:Zhou Minxi |Source: CCTV.com