Watch Video
Play Video
Today is a traditional Chinese "Laba Rice Porridge Festival". It is celebrated on the 8th day of the 12th month in the lunar Chinese calendar, reminding us that Spring Festival is just around the corner. Falling on Saturday this year, it's a day when eating porridge is not to be taken lightly.
The tradition has its roots in Buddhist practices, when on this day large Buddhist temples would offer rice porridge to the poor to show their faith to Buddha. In the Ming Dynasty about 500 years ago, it became such a highly regarded food that emperors would give it to their officials during festival.
As Laba porridge gained favor among the feudal upper class, its popularity quickly spread throughout the country. The porridge is a nutrious mix of glutinous rice, red beans, millet, Chinese sorghum, peas, dried lotus seeds, red beans and others.
Citizens queue to get free porridge at Huayan Temple in Chongqing, southwest China,
Jan. 19, 2013. The Huayan Temple distributed Laba porridge for free on Jan. 19, the
eighth day of the 12th lunar month or the day of Laba Festival. The Laba Festival is
regarded as a prelude to the Spring Festival, or Chinese Lunar New Year, the most
important occasion of family reunion, which falls on Feb. 10 of this year. Drinking
Laba porridge on the day of Laba is a traditional custom in China. (Xinhua/Zhou Ke)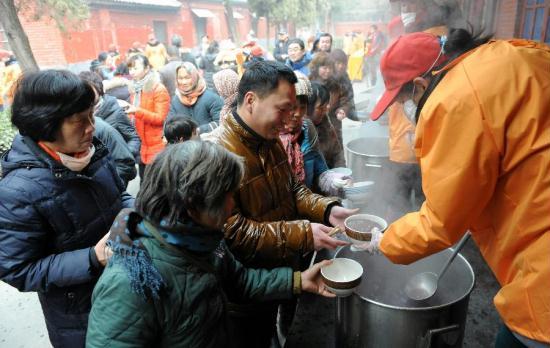 Citizens queue to get free porridge at White Horse Monastery in Luoyang, central
China's Henan Province, Jan. 19, 2013. The White Horse Monastery distributed Laba
porridge for free on Jan. 19, the eighth day of the 12th lunar month or the day of
Laba Festival. The Laba Festival is regarded as a prelude to the Spring Festival, or
Chinese Lunar New Year, the most important occasion of family reunion, which falls on
Feb. 10 of this year. Drinking Laba porridge on the day of Laba is a traditional custom in China. (Xinhua/Li Bo)


Editor:Wang Xiaomei |Source: CCTV.com