Watch Video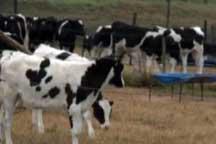 Play Video
By CCTV correspondent Daniel Schweimler
Argentines love their beef. They are among the world's biggest per capita beef eaters. But the number of cattle and beef exports are declining.
Argentina was built partly on the strength of its cattle industry, their version of the cowboy, the gaucho, taming the wide open fertile plains, or pampas. Until a few years ago, Argentines ate more beef than anyone else in the world - a whopping 68kg per person per year.
"Lots of Argentines eat a lot of meat. It's a very traditional meal here in Argentina. Most Sundays I eat barbequed meat with my family," said a shopper at a butcher's.
While the Sunday asado or barbeque is still the norm, Argentines are eating and exporting much less meat and the figures are falling. They now eat a still substantial 56kg a year but their neighbours in Uruguay consume more and Argentina is now only the tenth largest beef exporter in the world. The number of cattle falling from 57 to 48 million.
Meat - the locals will tell you that theirs is the best in the world - is an intrinsic part of Argentine life, or what is consumed here and as a major export. Beef, simply, is big business.
But not as big as it was. There are a number of reasons for the decline. More and more fertile land is being used to harvest the lucrative soya crop which, ironically, is exported to countries like China to feed cattle.
Meanwhile Argentine cows are increasingly moved to concentrated installations known as feedlots. High government taxes and trade restrictions, along with the downturn in the world economy complete the picture. Meat in Argentina still rules out only just.
Editor:Zhou Minxi |Source: CCTV.com