Watch Video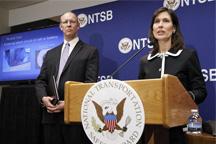 Play Video
After four weeks of investigation, the US National Transportation Safety Board has identified how, but not why, a battery fire on a Boeing 787 Dreamliner occurred last month.
Deborah Hersman, chairwoman of National Transportation Safety Board, said, "We have pinpointed the origin of the event to cell number 6. We know cell number 6 had multiple short-circuits, and so we've identified the initiating event as a short-circuit in cell number 6."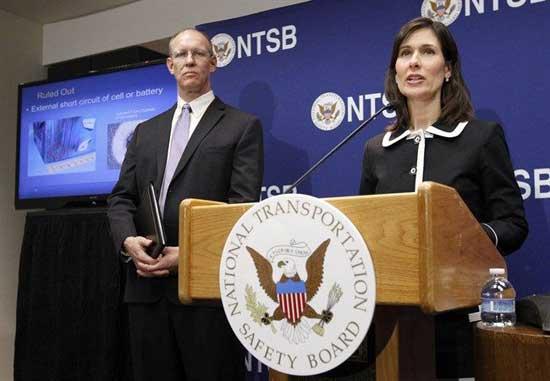 National Transportation Safety Board (NTSB) Chair Deborah Hersman, right, accompanied by John
DeLisi, director of NTSB Office of Aviation Safety, speaks during a news conference in
Washington, Thursday, Feb. 7, 2013, to provide an update on the NTSB's investigation into the
Jan. 7 fire that occurred on a Japan Airlines Boeing 787 at Logan International Airport in Boston.
The NTSB also said that the decision to return the Boeing 787 fleet to flight will be made by the Federal Aviation Administration. The announcement came after the FAA grounded the 787s after a battery in a Japan Airlines plane caught fire, and an All Nippon Airways flight had a battery malfunction.
Boeing 787 is the first mid-sized passenger plane capable of long-distance flight. But problems appeared soon after the planes were put into operation, including fuel leaks, inflamed batteries, and engine problems.
Editor:Zhang Rui |Source: CCTV.com