Watch Video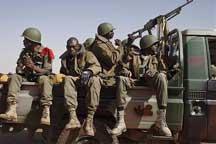 Play Video
Malian government soldiers have fought mutinous paratroops in the capital Bamako, in a clash that threatened to undermine a French-led offensive against Islamist rebels.
Local residents fled as heavy gunfire echoed from a paratrooper base on the Niger River and army units with armoured vehicles surrounded the camp. State media reported at least one person was killed.
Members of the 'red beret' paratroop unit loyal to deposed Malian President Amadou Toumani Toure fired their weapons to protest attempts to redeploy them.
Meanwhile, French special forces parachuted in to seize the desert town and airfield of Tessalit, about 50 kilometers from the Algerian frontier. But in a sign the rebels could fight back with guerrilla tactics, a suicide bomber on a motorbike blew himself up on Friday at a checkpoint north of Gao.
It was the first reported suicide bombing since the Islamist rebels were expelled from their desert strongholds of Gao, Timbuktu and Kidal.
Editor:Zhang Pengfei |Source: CCTV.com