Watch Video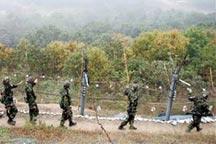 Play Video
South Korea has strengthened its military "preparedness," amidst ongoing military exercises in the Democratic People's Republic of Korea. Defense Ministry spokesman, Kim Min-Seok, said Seoul was "closely monitoring" the drills, which may include missile tests.
Kim Min-Seok, Spokesman of S. Korean Defense Ministry, said, "If the set zone is large, the missile maximum range will fit into that. If the zone is narrow, the missile maximum range will be shorter, or the DPRK can also conduct ground firing tests."
The remark comes after the DPRK's military vowed on Tuesday to cancel the 1953 cease-fire that ended the Korean War, if the US and South Korea carried out joint drills scheduled on March 11th. About 200-thousand Korean troops and 10-thousand US forces are expected to take part in the "Foal Eagle" exercise, which will last until the end of April. The DPRK views the drills as invasion preparations, and says it is a US-led push to secure a UN Security Council resolution. The resolution calls for sanctions against Pyongyang over the nuclear test in February.
Editor:Lu Jiaying |Source: CCTV.com