Watch Video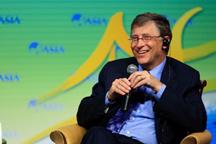 Play Video
Microsoft founder Bill Gates is also attending the Boao Forum for Asia, in his role as co-founder of the "Bill and Melinda Gates Foundation." Speaking at a Dialogue session on Sunday, Gates spoke highly of China's accomplishment in alleviating poverty.
An impressive achievement, that's how Bill Gates described China's efforts to bring 600 million people out of poverty in only 30 years.
The founder of global software giant, Microsoft, says China's scientific breakthroughs can help Africa and less developed countries battle epidemics, hunger and poverty.
Click here for more pictures>>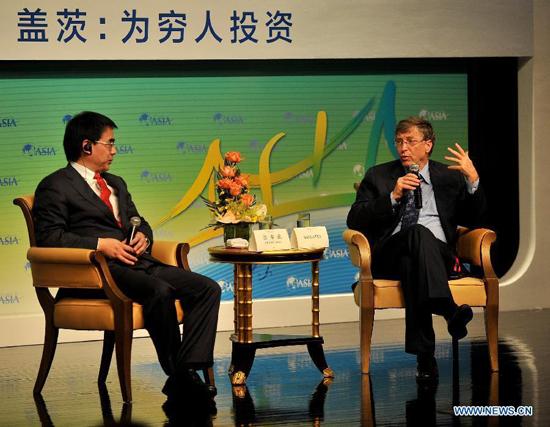 Co-chair and Trustee of Bill and Melinda Gates Foundation Bill Gates (R),
who is also the founder of Microsoft, speaks on a Boao Dialogue under the
theme of "Investment for the Poor" during this year's annual meeting
of the Boao Forum for Asia in Boao, south China's Hainan Province,
April 6, 2013. (Xinhua/Jiang Enyu)
Bill Gates, Bill & Melinda Gates Foundation, said, "When we look back into the history of China over the past 20 years, the grain productivity is increasing 2.6% annually."
Gates' charitable foundation has been working closely with China in recent years, on epidemic control and agricultural research. It's hoped the combined efforts will benefit many African countries in combating AIDS, tuberculosis. There's also been cooperation on ways of discouraging tobacco farming, and boost grain productivity.
Bill Gates, Bill & Melinda Gates Foundation, said, "We have cooperation with Chinese Academy of Agricultural Sciences....new species of rice....high productivity."
Since 2008, Gates has been spending more and more time focusing on global health and education work at his Foundation. He says the move came about due to a sense of responsibility.
Bill Gates, Bill & Melinda Gates Foundation, said, "...we do have huge wealth, and we want for the best of our children..."
Gates says one of his main goals is to eliminate polio within 6 years. Currently over 400,000 children across the world suffer from the disease.
Editor:Bai Yang |Source: CCTV.com