Watch Video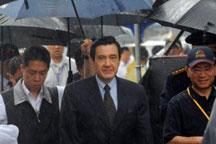 Play Video
Taiwan's leader Ma Ying-Jeou has said Taiwan will consider sanctions against the Philippines amid widespread public outrage over the shooting of a Taiwan fisherman. A delegate from Taiwan's Kuomintang Party also called on troops to fight back in the future.
"Once more, we are asking for an apology from the Philippine authorities and that whoever is responsible be punished. We need a guarantee from the Philippines that this will never happen again. Justice will be done for our fellow fisherman, and we will not rule out sanctions toward the Philippines. We will not give up, until the murderer is brought to justice," said Ma Ying-Jeou.
"In the future, in circumstances like this, I am asking our Navy, our troops to fire back," said Ting Shou-Chung, delegate of Taiwan Kuomintang.
Ma Ying-Jeou made his remarks during an inspection of a coast guard drill in central Taiwan. The drill is a regular exercise held by the coast guard every two years. Ma said Taiwan will deploy more large fishing patrol boats to protect its fishermen.
Taiwan has expressed public outrage at Manila over the shooting of a Taiwan fisherman. Taiwan netizens have launched a campaign to paralyze the Philippines government website. The official website of the Philippines' Foreign Ministry crashed on Sunday evening.
Related stories
Editor:Lu Jiaying |Source: CCTV.com