Watch Video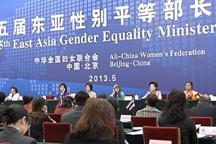 Play Video
By CCTV reporter Shi Wenjing
The 5th East Asia Gender Equality Ministerial Meeting has opened in Beijing. The biannual meeting welcomes leaders from East Asian nations to discuss and share ideas on promoting gender equality.
Working for women's rights in East Asia, more than 120 participants gathered in Beijing to review what has been achieved and tackle the challenges ahead.
"Promoting gender equality is a major area of cooperation among East Asian nations," said Shen Yueyue, president of All-China Women's Federation. "East Asia is one of the most dynamic regions in the world with women gaining increasing status in society. The Ministerial Meeting has become a great platform for communication and sharing experiences."
The meeting's host China has been developing fast not only economically, but on gender equality issues as well. This year, the number of female deputies at the 12th NPC rose to 23.4 percent of the total number, which is more than 2 percentage points higher than at the last session. Of the 35 delegations, 24 saw more female NPC deputies.
"China keeps improving its legal system to protect rights of women. We've instituted gender equality mechanism at all levels of governments to ensure women's participation," said Song Xiuyan, Deputy Director of National Working Committee on Children and Women at the State Council.
"Also we have created many training projects targetting women. But there are still many problems such as the unbalanced development in rural and urban areas."
The two-day meeting will discuss the concept of gender main-streaming, preventing violence against women and eliminating gender discrimination in employment.
Editor:Zhou Minxi |Source: CCTV.com