Watch Video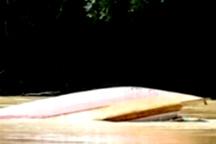 Play Video
21 people are missing in Malaysia after an overloaded boat capsized in a remote river on Tuesday.
181 passengers are reported to have swum ashore or were rescued by villagers.
The accident occurred on Malaysia's longest river, the Rajang, in Sarawak state which is located on Borneo Island. The boat was believed to have struck a rock while navigating downstream.
The boat was carrying almost three times its capacity of 74 people. Rescuers are now searching for the missing passengers. There are no confirmed casualties yet, but rescuers believe some people might still be trapped inside the boat.
Editor:Zheng Limin |Source: CCTV.com