Watch Video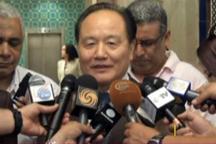 Play Video
By CCTV correspondent Adel El-Mahrouky
China's special envoy to the Middle East, Wu Sike, has made his second middle east stop in Cairo. Wu has held a number of meetings to discuss China's four-point plan to push forward the peace process in the Middle East. He also discussed China's concerns on the recent developments in Syria's crisis.
The Chinese special envoy to the Middle East, Wu Sike, visited Cairo as part of his Middle East tour. Wu met with the Egyptian authorities as well as the secretary general of the Arab League. Syria and Palestine led Wu's discussions.
"We and the Arab League are extremely concerned with the latest developments in Syria and we call on all parties concerned to exert the efforts to hold the second Geneva convention," Wu said. "To find a political solution to the Syrian crisis, we call upon all groups and countries in the Middle East to play a positive role in reaching a political solution, and stop the armed battle."
China's envoy presented in details President Xi Jinping's four-point plan, which coincides with the Arab initiative on establishing a Palestinian state in the occupied territories in 1967 with East Jerusalem as its capital.
"The new Chinese leadership stressed to President Mahmoud Abbas that China's position remains unchanged, supporting the Palestinian people and the Arab Countries. China will stand on the side of the Palestinian people and Arab citizens forever," Wu said.
"China is a permanent member of the UN's Security Council. Therefore it has a big role, particularly while the international community remains silent to Israel's violations against the Palestinian people. Now after 46 years of the 1967 occupations of Arab lands by Israel, we need china's support to the Arab initiatives and to begin negotiations," said Murad Fathy, an expert on Arab League Affairs.
Wu says China will expand its cooperation and economic ties with the Arab world to strengthen the relations with this part of the world.
For over two years now the Palestine-Israel conflict has been marginalised due to the violent unrest that swept the region. China comes to the region rejecting violence and trying with its regional friends to reach peace.
Related stories
Editor:Zhou Minxi |Source: CCTV.com