The 2013 Global Eco-Forum has opened in Guiyang, the capital of Southwest China's Guizhou province.
Chinese Vice Premier Zhang Gaoli has given a speech at the opening ceremony. He says China is committed to green development, a circular economy and low-carbon development and will step up international cooperation and exchanges. The Eco-Forum has brought together hundreds of environmental experts, NGOs and business leaders, as well as politicians from home and abroad.
The theme for the conference is "building an eco-civilisation: green transformation and transition". The conference will emphasize green industry, green urbanization and green consumption. Eco-Forum Global is the only state level international forum focusing on eco-civilizations.
Watch full video of Chinese Vice Premier Zhang Gaoli's speech at the opening ceremony>>
Full video of special coverage on 2013 Global Eco-Forum Guiyang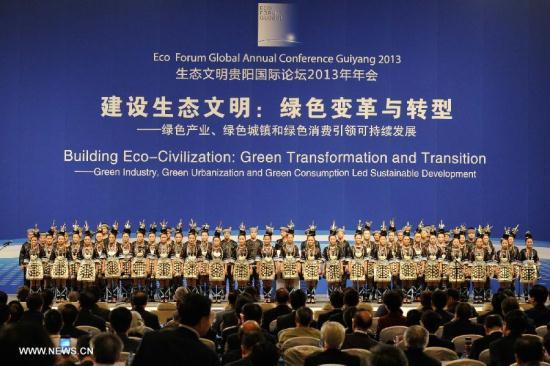 Performers of Dong ethnic group sing at the opening ceremony of the Eco Forum Global Annual Conference Guiyang 2013 in Guiyang, capital of southwest China's Guizhou Province, July 20, 2013. Over 2,000 participants from home and abroad attended the conference themed on "Building Eco-Civilization: Green Transformation and Transition". (Xinhua/Ou Dongqu)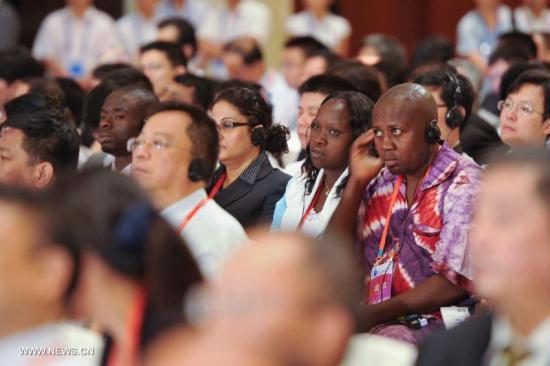 Delegates attend the opening ceremony of the Eco Forum Global Annual Conference Guiyang 2013 in Guiyang, capital of southwest China's Guizhou Province, July 20, 2013. Over 2,000 participants from home and abroad attended the conference themed on "Building Eco-Civilization: Green Transformation and Transition". (Xinhua/Ou Dongqu)
Editor:James |Source: CCTV.com