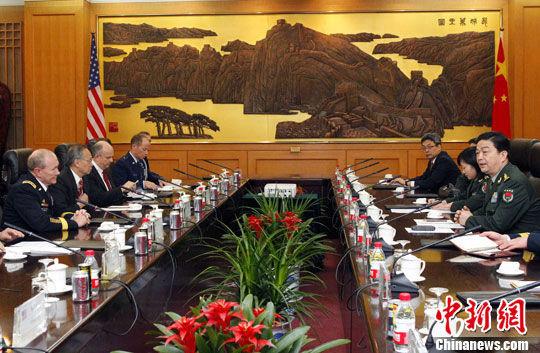 Chinese Defense Minister Chang Wanquan is on a four-day trip to the United States.
Chinese Defense Minister Chang Wanquan is on a four-day trip to the United States. His visit aims to strengthen the agreement on the "new type of big-country relations", that President Xi Jinping and Barack Obama called for in Sino-US ties.
Both China and the United States say that Chang's visit will help sustain the "positive momentum" that has been achieved in China-US military-to-military ties.
The rising strength of China's military is often regarded as a challenge to the dominant position of the US.
The US's pivot toward Asia is also been viewed by many as a move to contain China.
A high-ranking Chinese military delegation is aiming to reassure its counterpart that both sides can establish a new relationship that could benefit both.
Zhao Xiaozhuo, Deputy Director of PLA Academy of Military Sciences, said, "The core concept of such new relationship is to sustain the regular set of interactions. To give up the Cold War mentality of perceiving each other as a threat, and build mutual trust through further cooperation and coordination efforts."
Zhao Xiaozhuo, from the PLA Academy of Military Sciences, believes good US-China military ties are crucial for regional peace.
Military ties between the two sides have experienced positive impetus over the past several months since Chinese President Xi Jinping took office, and US President Barack Obama was re-elected.
In April, the US Chairman of the Joint Chiefs of Staff, General Martin Dempsey, visited China to enhance trust and overcome obstacles.
He said, "Health, stable, reliable and continuous military to military relations, is an essential part of our overall relationship between the United States and China."
During their summit in June in California, President Xi Jinping and Barack Obama agreed to foster a new type of military relations commensurate with the new type of a major-country relationship, that features core interests and win-win cooperation.
Xi said, "We need to think creatively and energetically, working together, we can build a new model of a major country relationship."
Neither friend nor foe.
After years of ups and downs, the two militaries have made the consensus that they need a system for crisis management, deeper coordination and further cooperation.
Zhao said, "Military divergences between China and the US cannot be resolved overnight, but controlling disparities through established mechanisms should be advocated by both sides."
Defense Minister Chang Wangquan's visit may not forge any new agreements or solve all the existing problems between the two sides. But the visit bears great significance for the future relationship between the two armies. The face to face talks between the two military leaders can help each to think and understand what the new "big country" relationship means. But to fully implement such a concept, will need time and wisdom by both sides.
Editor:James |Source: CCTV.com