Syrian President Bashar al-Assad says it will put the country's chemical weapons under international supervision. Speaking to Russian state television, he reiterated the key role Russia has played in the process.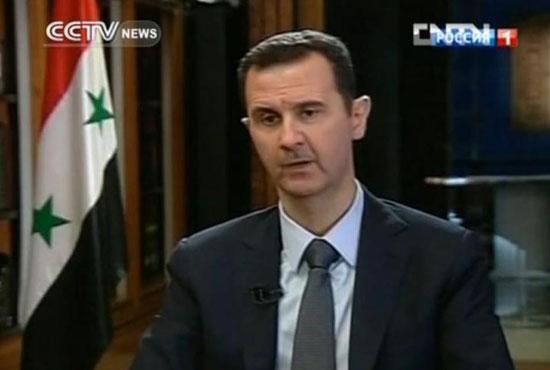 Syrian President Bashar al-Assad interviewed by Russian state television.
Bashar al-Assad says his decision was made thanks to Russia's diplomatic efforts. He also blamed the United States for trying to halt the diplomatic process.
Assad said, "I want to confirm once again - if not for the Russian initiative, we would never have discussed this issue with another country. It's a type of the US' propaganda. Because Kerry, its leadership including Obama want to always look like winners who achieved results with threats. We are not interested in it."
Assad says he believes the chemical weapons issue is a provocation, by the US.
But, Damascus will begin handing over information on its chemical weapons stockpiles to the UN and other international organisations.
And after a month, it will join the anti-chemical weapons convention.
He also urged the US to stop its military threats.
Assad said, "But I want to make it clear to all that these mechanisms will not be fulfilled in a one-sided way. It doesn't mean that Syria will sign documents, fulfil the conditions and that's it. It should be a two-sided process, and it's aimed first of all at the US stopping using the policy of threats to Syria, and it also depends on how Russia's proposal will be received. When we see that the US really wants stability in our region and will stop threatening and aiming to attack, and stops supplying weapons to terrorists, then we will consider the process can be brought to the final stage. And it will become real and acceptable to Syria."
Syria applied on Thursday to sign up to the global ban on chemical weapons.
It's seen as a major first step to avert US military strikes.
However, the threats were still there, as US President Barack Obama simply postponed the vote on military strikes against Syria.
And he has assured his people the US will act if diplomacy fails.
Related stories
Editor:James |Source: CCTV.com