51 people, including 14 children have been killed after a makeshift bus plunged off a cliff into a river in southeastern Peru's Cusco region, no one on board survived.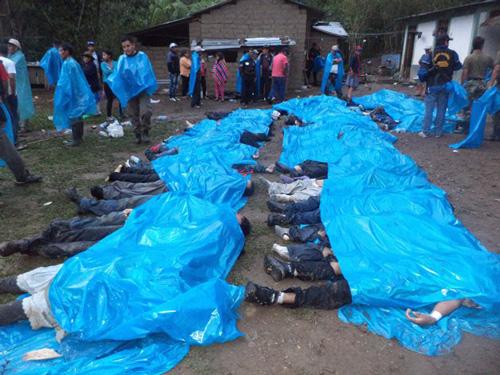 Bodies of victims lie under plastic sheets after they were recovered from a
cliff near the twon of Santa Teresa, Cuzco province, Peru, Saturday, Oct. 12,
2013.
The accident occurred on Friday night. The truck went off the road and fell about 200 metres into a deep ravine. All the victims were rural residents. They had just attended festivities in the provincial capital of Santa Teresa.
The cause of the accident remains unclear. But investigations are underway to determine whether the driver was drunk at the time of accident. High altitude roads in the Peruvian Andes are some of the most dangerous in the world and such accidents are quite common.
Editor:James |Source: CCTV.com