President Xi Jinping says China will continue its reform and opening up, while seeking a peaceful road to success. The president made the remarks while meeting foreign delegates attending the 21st Century Council forum in Beijing.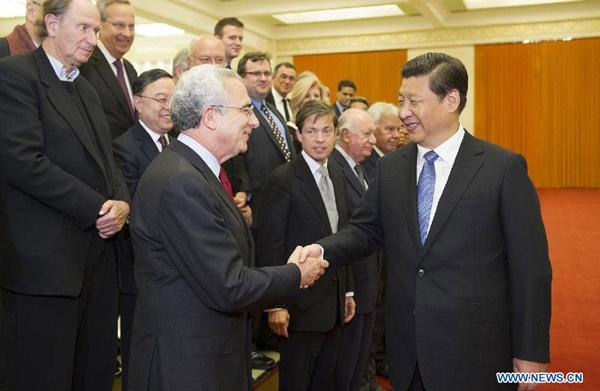 Chinese President Xi Jinping (front, R) meets with foreign guests who attend the 21st Century Council Beijing Conference at the Great Hall of the People in Beijing, capital of China, Nov. 2, 2013. (Xinhua/Huang Jingwen)
The 21st Century Council is a global think tank. The forum is discussing China's development and role in global governance. Xi Jinping says the nation's top priority remains development and improving people's livelihoods. He also says China's door to the world will not close and its reform will not stop.
Xi Jinping says China will put forward a measured approach to deepen reform when the Party holds its plenary session next week. He stressed that China will take more responsibility in international affairs and seek harmonious relations with other nations.
Former UK Prime Minister Gordon Brown is among a number of former heads of state attending the forum. It also gathers top global intellectuals and entrepreneurs.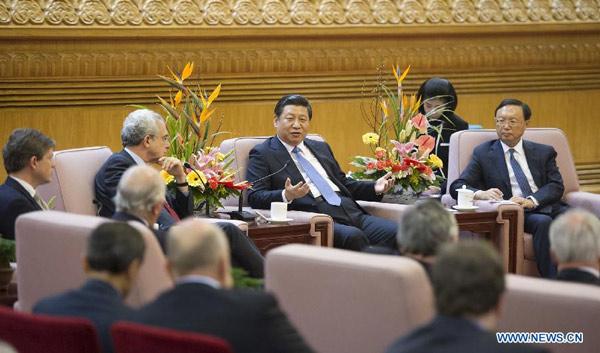 Chinese President Xi Jinping (back, 2nd R) meets with foreign guests who attend the 21st Century Council Beijing Conference at the Great Hall of the People in Beijing, capital of China, Nov. 2, 2013. (Xinhua/Huang Jingwen)
Related stories
Editor:James |Source: CCTV.com