Baby panda Yuanzai has just passed a regular health check-up at the Taipei Zoo.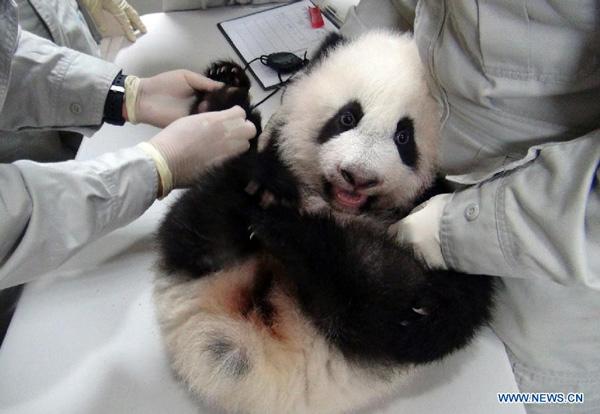 Giant panda cub "Yuan Zai" receives medical examination at the Taipei Zoo in Taipei, southeast China's Taiwan, Nov. 8, 2013. The female cub, born on July 6, is the first baby of giant pandas "Tuan Tuan" and "Yuan Yuan", which were sent as goodwill gifts to Taiwan by the Chinese mainland. (Xinhua/Taipei Zoo)
The four-month old giant panda has grown quickly, gaining about 2.7 kilograms over the past month alone. And her body temperature registered within the normal, healthy range. Doctors also checked and cleaned all 24 of her teeth.
Yuanzai has now developed a basic sense of smell and touch. And her keepers have noted her strong sense of curiosity. They say she enjoys playing and wandering outdoors.
Doctors say that more outdoor activities will help her grow further. Yuanzai is the first cub born to Yuan Yuan, and her mate Tuan Tuan, who were given to Taiwan as gifts by the Chinese mainland in 2008.
Editor:James |Source: CCTV.com