Ukrainian President Viktor Yanukovych has met with Chinese President Xi Jinping in Beijing. The two countries signed a number of agreements. Both sides agree they have great cooperative potential.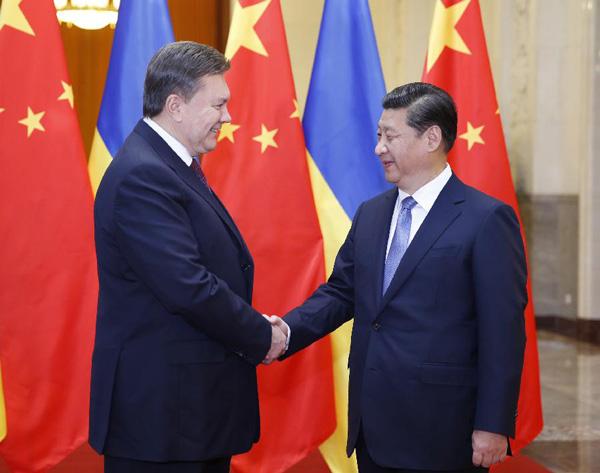 Chinese President Xi Jinping (R) shakes hands with Ukrainian President Viktor Yanukovych before their talks at the Great Hall of the People in Beijing, capital of China, Dec. 5, 2013. (Xinhua/Ju Peng)
A warm welcome. Ukrainian president Viktor Yanukovych was received by Chinese President Xi Jinping at a ceremony in Beijing. President Yanukovych's trip has been productive, despite of political unrest at home.
The two countries agreed to deepen their strategic cooperative partnership. They also signed agreements on air travel, alternative energy, coal and tourism. But no details or values for the deals were provided.
"I think it's hard to give a detailed number on the value of the agreements. The agreements signed today aren't worth 10 billion US dollars, to be frank, but the two sides have great cooperative potential. They are very complementary in pragmatic cooperation," said Cheng Guoping, Chinese vice foreign minister.
Speaking at a China-Ukraine trade forum on Thursday morning, President Yanukovych invited Chinese companies to invest in Ukraine's infrastructure, tourism, telecommunications and the energy sector and promised more policy support.
"I want to emphasize that in Ukraine we are offering favourable conditions and polices for foreign business and investments," said Yanukovych.
Media reports say Yanukovych is also seeking loans from China to meet gas bills and debt repayments. But there was no mention of whether China will make those loans to Ukraine at this time, as it has already lent 10 billion US dollars to the country.
The signing of economic deals with china will come as a big relief for embattled Ukrainian president Yanukovych, fresh from surviving a vote of no-confidence over his apparent preference for close ties with Russia, President Yanukovych will be hoping, the deals with china reflect his openness to forming partnerships with anyone willing to support the Ukraine.
Editor:James |Source: CCTV.com