China's lunar probe the Chang'e-3, has successfully soft-landed on the moon's surface. The success made China the third country, after the United States and the Soviet Union, to complete a soft-landing on the lunar surface. The last such soft-landing was carried out by the Soviet Union back in 1976.

A Chinese dream since ancient times comes true.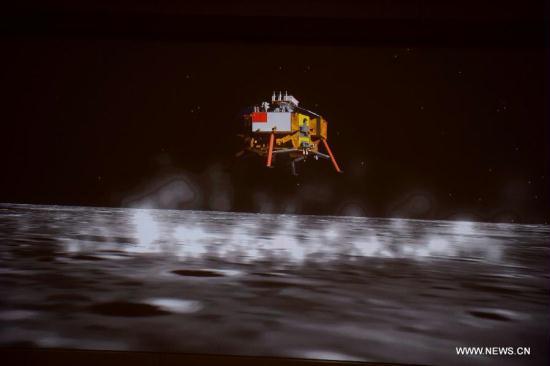 Photo taken on Dec. 14, 2013 shows the lunar probe Chang'e-3 on the screen of the Beijing
Aerospace Control Center in Beijing, capital of China. China's lunar probe Chang'e-3, with
the country's first moon rover onboard, landed on the moon on Saturday night, marking the
first time that China has sent a spacecraft to soft land on the surface of an
extraterrestrial body. (Xinhua/Jin Liangkuai)
The lunar probe, named after the mythical Chinese Goddess Chang'e began its descent towards the moon at 9 p.m. Beijing time.
About 12 minutes later, it touched down in Sinus Iridum, or the Bay of Rainbows.
During the landing, the probe decelerated from 15 km above the moon, hovering at 100 meters from the lunar surface as it used sensors to assess the landing area. This was done to avoid obstacles and locate the final landing spot.
During this 12-minute landing period, there was no contact with mission control back on Earth.
After it successfully landed, everyone breathed a sigh of relief.
"Chang'e 3 has successfully landed, and subsequent plans will be carried out including initialization on the moon," said Sun Huixian, deputy engineer-in-chief of Second Phase of China'S Lunar Program.
Chang'e-3 includes a lander and a moon rover called "Yutu", or Jade Rabbit, which is the goddess' pet in Chinese mythology. Soon after the landing, the lander's camera broadcast images of the moon's surface.
And the rover Yutu is slated to separate from the Chang'e 3 lander in a few hours, to embark on a three-month scientific journey.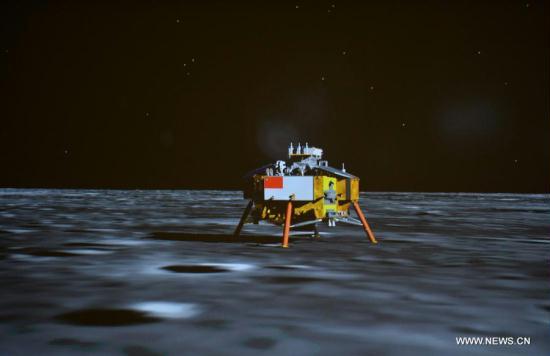 Photo taken on Dec. 14, 2013 shows the lunar probe Chang'e-3 on the screen of the Beijing
Aerospace Control Center in Beijing, capital of China. China's lunar probe Chang'e-3, with
the country's first moon rover onboard, landed on the moon on Saturday night, marking the
first time that China has sent a spacecraft to soft land on the surface of an
extraterrestrial body. (Xinhua/Li Xin)
Related stories
Editor:James |Source: CCTV.com