Chinese leaders have extended Lunar New Year greetings to Chinese people at home and abroad ahead of the traditional Spring Festival. The new year begins on Friday.
President Xi Jinping hosted a festival gathering at the Great Hall of the People in Beijing on Wednesday. He sent greetings to people from all walks of life and expressed thanks to foreigners who have contributed to China's modernization.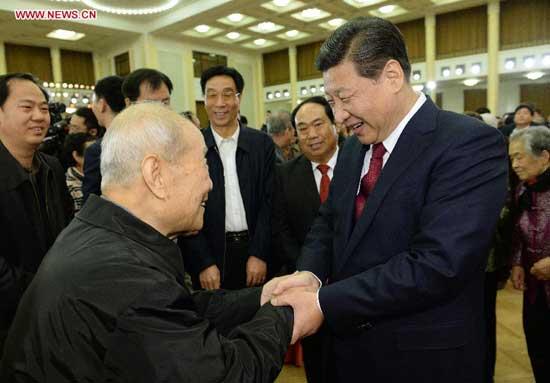 Chinese President Xi Jinping (front, R) shakes hands with a guest at a Spring Festival
gathering in Beijing, capital of China, Jan. 29, 2014. (Xinhua/Ma Zhancheng)
Premier Li Keqiang hailed the efforts of all Chinese in making new achievements last year and highlighted effective measures taken to improve people's livelihoods. He pledged more efforts to deal with housing, medical treatment, social security, education, food safety and air pollution.
Also present at the meeting were officials of the Central Committee of the Communist Party of China, Standing Committee of the National People's Congress, the State Council, and the Central Military Commission.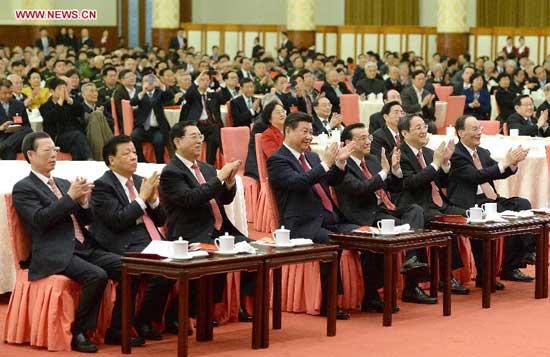 Top Chinese leaders Xi Jinping, Li Keqiang, Zhang Dejiang, Yu Zhengsheng, Liu Yunshan, Wang
Qishan, Zhang Gaoli attend a Spring Festival gathering in Beijing, capital of China, Jan. 29,
2014. (Xinhua/Ma Zhancheng)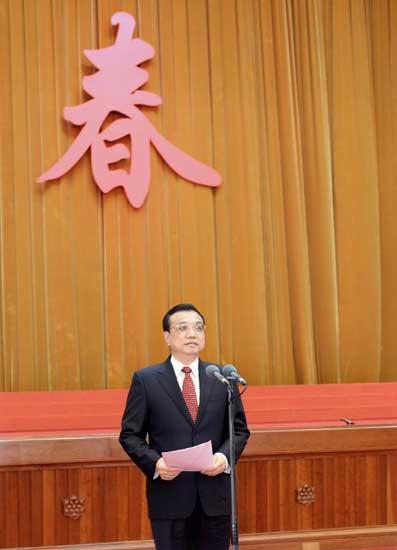 Chinese Premier Li Keqiang delivers a speech at the Spring Festival
gathering in Beijing, capital of China, Jan. 29, 2014. (Xinhua/Li Tao)
Editor:James |Source: CCTV.com