Watch Video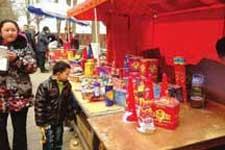 Play Video
By CCTV reporter Hou Na
China's capital has seen a marked drop in air pollution during this year's lunar new year celebrations, as residents appear to have heeded the government's call to "quiet" down their use of fireworks. Hou Na takes a look at the government's and public efforts to curb pollution while keeping the traditions alive.
Fireworks, a Chinese New Year eve tradition, aims to scare away evil spirits and bad luck.
With the seemingly ever present suffocating smog of recent years, however, fireworks have come to be seen as an evil on their own.. The protechniques not only light up the night sky they also send smoke wafting over every neighborhood in the city.
This year residents seem to have become more sensitive to their environment, as sales of fireworks have dropped by half.
"I only bought one roll of firecrackers this year to help the environment, much less than last year." A Beijing citizen said.
Most of China's megacities report a drop in air pollution, good visibility and less noise on lunar new year's eve.
Beijing's air quality on Spring Festival eve was "much better" than last year with an average PM 2.5 reading of between 140-160 micro gram per cubic metre from 6 p.m. on Thursday to midnight.
"Beijing recorded its highest ever reading -- over 1,000 -- after last year's firework frenzy on the lunar new year's eve. This year, it's much better." Li Yunting, director of Beijing Municipal Environmental Monitoring Center, said.
The decline in fireworks in capital also meant there were fewer fires and injuries on Thursday night. Police released statistics showing in the hour after midnight the fire department responded to 68 fires, about 20 less than last year. During that same hour, when fireworks are most intense, 13 people were treated at hospitals for injuries compared with 25 people last year.
Beijing municipal government has expressed its gratitude in a public letter on Friday to local citizens who answered its call of replacing fireworks with flowers and electronic substitutes for celebrations. The letter also calls for continuing such "environment-friendly " practices in coming days."
Not only have fewer fireworkers helped Beijing's air, factories in the region have shut for the holidays and breezy weather is also helping Beijingers breath easier.
Related stories
Editor:Zhang Rui |Source: CCTV.com