By CCTV reporter Zhang Nini
The Chinese government is confident economic growth can be kept within a "reasonable and balanced range" despite tough domestic and global forecasts. The message came from Premier Li Keqiang, who held a two-hour question-and-answer session with Chinese and international journalists, after the conclusion of the 2014 NPC session. The Premier focused on government restructuring, social fairness and living standards, as the key priorities for the coming year.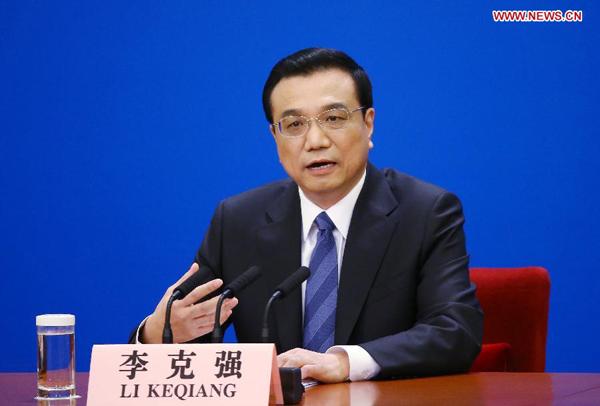 Chinese Premier Li Keqiang speaks at a press conference after the closing meeting of the second annual session of China's 12th National People's Congress (NPC) at the Great Hall of the People in Beijing, capital of China, March 13, 2014. (Xinhua/Chen Jianli)
China will pursue its GDP growth rate, but only in a way that brings real benefits to the people.
Answering questions from Chinese and international media, Premier Li Keqiang's emphasis was on improving quality and efficiency, within a framework of sustainable development.
Li said: "China's economy still faces severe challenges this year and probably a more complicated situation. We need to strike an important balance in terms of continuing our steady growth. Some of the key factors in this are boosting employment, keeping inflation and debt risks under control, and increasing our efforts to protect the environment.
"China's economy has great potential and tenacity. We have the ability and the means to keep it growing within a reasonable range."
The Premier says there needs to be more oversight of finance and debt.
Asked about the risk of financial product default, Li described the issue of debt as "manageable" and without systematic risks.
There's to be more government transparency and decentralization. The Premier spoke about cutting government red tape, saying over 400 "administrative approval steps" had been cancelled or devolved to lower-level governments, with more reforms planned for 2014.
Premier Li said that this restructuring would boost the fight against official corruption - something he called an "enemy of government".
"Implementation of power and public spending must be subject to institutional checks. We are planning to publicize a list that will define specific government powers as soon as possible. We will set out clear boundaries for the exercise of power to ensure that power is not abused," Li said.
Premier Li said the government would make more affordable housing available for low-income people. It will promote fairness in educational opportunities, by boosting access to university for people from rural areas. And pension schemes across the country will be expanded.
In his work report at the start of the NPC session, Premier Li spoke of a "war on pollution". At Thursday press conference, he was asked to expand on that commitment.
Li said: "This year we have set a 3.9 percent reduction target for cutting our energy intensity. That comes on top of the 3.7 percent reduction we achieved last year. This is equivalent to cutting coal burning by 220 million tons.
"When it comes to fighting pollution, we need tough measures in all areas. The government will severely punish those who create pollution through illegal activities, and hold accountable the regulators who fail to perform their duties."
Most of the questions focused on domestic issues. But on foreign policy, the Chinese premier had a strong message: while China will continue its policy of peaceful development, the country will be "resolute" in safeguarding all its territory.

Editor:James |Source: CCTV.com