Watch Video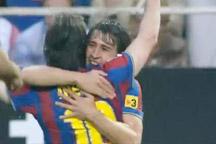 Play Video
Barcelona and Real Madrid will go down to the last day of the season after both teams won on Saturday. The results maintain Barca's one-point lead over its rivals at the top of the division.
1. Barca visited Sevilla and La Liga top scorer Lionel Messi put his team in front in the 5th minute...he controlled a pass and drilled a low shot past Sevilla goalkeeper Andres Palop...it is Messi's 32nd of the season...1-0 Barca.
2. After 28 minutes more from the defending league champs...midfielder Xavi sent teenager Bojan Krkic a perfect pass. Krkic scored a second goal for the visitors.
3. Ten minutes into the second half...Sevilla went down to 10 men. Abdoulay Konko was dismissed and Barca went on the attack again.
3. In the 62nd minute...Barca's Pedro added the third goal. He scored with a snap shot from the edge of the area.
4. But the momentum swung back to the hosts six minutes later...Sevilla's Frederic Kanoute reduced the deficit to 3-1, Barcelona still in front.
5. In the 71st minute...Luis Fabiano capitalized on some sloppy defending from a free kick. Sevilla celebrates as the home team cuts the margin to one.
6. Barca would need to hold on in the final moments. It sealed a vital 3-2 victory and moved closer to a second straight league title.
Turning to the other matches...Real Madrid kept up the heat with a crushing 5-1 victory over Athletico Bilbao. And Malaga lost 2-1 at Getafe. Valladolid scored a come from behind win over Racing Santander 2-1. Villarreal kept its European ambitions alive with a comfortable 2-0 victory in a derby battle against Valencia. Xerez managed to avoid relegation after a 3-2 win edged out Real Zaragoza
In the standings, Barca extended its record points tally to 96 from 37 matches. Real stands in second with 95. And Valencia is already assured of a Champions League spot in third, with 68 points. Sevilla are fourth at 60 and Real Mallorca fifth with 59.
Editor:Yang Jie |Source: CCTV.com