Watch Video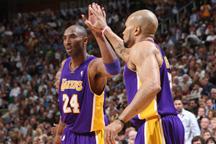 Play Video
The Los Angeles Lakers will play for another Western Conference crown. But the defending NBA champs played more like they were trying to avoid a sweep rather than complete one, in game four of their semifinal against the Utah Jazz.
A one point, home court loss in game 3 weakened Jazz morale. No NBA team has ever come back from a 3-0 deficit to win a playoff series. The Jazz tried to get the lead in the first quarter, but couldn't get over the hump. And the Lakers dominated the action in the secnod quarter. It didn't take long for LA to take a double-digit advantage, and then Kobe Bryant and Pau Gasol helped increase the Laker lead to 22 points. Gasol scored a match-high 34 points plus 14 rebounds. But the Jazz didn't give up. Deron Williams scored to shorten the gap to 5. Williams took a team high 21 points and 9 assists. Kobe scored 32 points and ended Utah's hopes.
The Lakers win 111-96 and move on to the Western Conference finals for the third straight year. It's the first time the Jazz have suffered a clean sweep in 21 years.
Editor:Zhang Ning |Source: CCTV.com