Watch Video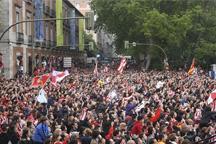 Play Video
Atletico Madrid's players are cheering their Europa League championship. Their fans followed the team's victory tour from the Vicente Calderon stadium to the streets of the Spanish capital on Thursday.
The team paraded the trophy through thousands of supporters who joined the celebration in Madrid. Atletico is the first team to proudly show the brand new Europa League trophy. The hardware has has a special meaning for the "Colchoneros". It represents their first title since winning the Spanish league and cup double in the 1995-96 season.
Diego Forlan scored both goals in the 2-1 win over Fulham in Hamburg, and enjoyed special recognition by the Atletico fans. The team made its way to Madrid's "Neptune" fountain where the party is expected to last into the night.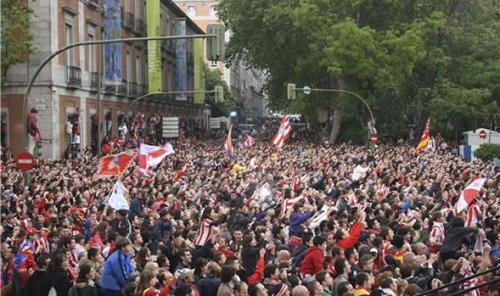 Atletico Madrid fans started the Europa League celebrations.
Related stories