Watch Video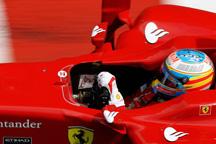 Play Video
The sixth round of the 2010 Formula One World Championship got underway on Thursday. Ferrari driver Fernando Alonso, Lewis Hamilton and Jenson Button, Michael Schumacher, Felipe Massa and Nico Rosberg all on the track.
In-keeping with the areas glamorous reputation McLaren-Mercedes duo Lewis Hamilton and Jenson Button were suitably 'blinged up' with diamond steering wheels. However the pair only settled for seventh and ninth respectively.
Just ahead of Hamilton on the provisional grid is Polish driver Robert Kubica, who ended as sixth fastest following a best lap of 1:15.192 in the Renault.
Michael Schumacher - who would equal Aryton Senna's record of six wins at the track with victory this weekend - was able to successfully overcome a distinct lack of grip and finish fifth fastest.
Felipe Massa remains in a promising position to claim his first win in the class since the Brazilian GP in 2008. The Ferrari driver ended the day fourth.
Sebastian Vettel shaved almost a second of his time from the opening session to secure third overall.
German driver Nico Rosberg claimed second place on the provisional grid in the Mercedes after posting a time of 1.15.013, a promising portent as the former Williams driver aims to claim his maiden win in the championship.
However the man setting the early pace was Ferrari driver Fernando Alonso. The Spaniard with a best time of 1:14.904 to claim provisional pole.
Editor:Zhang Ning |Source: CCTV.com