Watch Video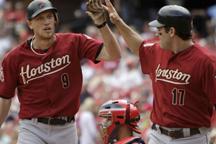 Play Video
Houston met the Cardinals in St. Louis with a chance to achieve a landmark road victory. A win would give the Astros their first series sweep in St. Louis since 2004.
On the top of the 3rd inning, there's no score.
Two runners on for the Astros and Lance Berkman drove the ball up the middle. Michael Bourn took off from second and came around to score. Houston lead 1-0.
Some drama unfolded later in the game, Houston's Carlos Lee hit a pitch from Chris Carpenter high into the air and St. Louis shortstop Tyler Greene made the catch. Apparently Carpenter said something to Lee that the Astro player didn't like. The two exchanged words with catcher Yadier Molina and the umpire standing in the middle. Then, Molina was incensed, and Berkman had to come over to calm him down. The dugouts and bullpens emptied but there were no punches thrown, and no pushing and shoving as the players got together on the field. Cooler heads prevailed and the teams went back to their dugouts.
Houston's Hunter Pence got the last word on Carpenter. He blasted the ball to left-centre field and into the stands for a three-run home run. This is his fifth homer of the year and third in his last four games. Houston lead 4-0.
At the bottom of the 7th inning, the Cards' Matt Holiday hit a grounder up the middle. Albert Pujols was on second base and put St. Louis on the board. But Houston stayed strong down the stretch and some fine defensive play kept the team from Texas on top. The Astros win it 4-1 and jog away with the series sweep.
Editor:Zhang Ning |Source: CCTV.com