Watch Video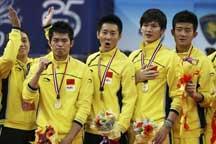 Play Video
Badminton's strongest national team went after its fourth straight Thomas Cup on Sunday. Chinese stars sought to build on their legendary success as they took on Indonesia in Kuala Lumpur, Malaysia.
China's owned one of badminton's most prestigious team trophies for three years in a row could the string continue?
Reigning Olympic champion Lin Dan led off against former Olympic and world champion Taufik Hidayat. Super Dan won the first game, but lost an argument with the officials when a shuttle he thought was out was ruled in. Lin made his point, but he then settled down to take a 16-12 second game lead.
The Chinese standout rolled from then on. Lin Dan finished off Taufik in straight games to give China a 1-0 match lead.
Lin Dan, Chinese National Badminton Team, said, "We should try our best to win every point. It's my fifth time to represent China in the Thomas Cup. Maybe I will only have a few chances later, so I will treasure every chance I have."
Li Yongbo, Coach Chinese National Badminton Team, said, "This time, Lin Dan has found his form. This is the real Lin Dan. He played very well at the court, and his performance was very mature."
China's Cai Yun and Fu Haifeng faced Indonesia's men's doubles Olympic champion Markis Kido and Hendra Setiawan. The Chinese pair took a 1-game lead when Setiawan's return went off target. Cai and Fu took the opener 25-23. The Indonesians won the second game but collapsed in the decider. Cai and Fu grabbed the victory 25-23, 16-21, 21-12.
It was up to China's Chen Jin to complete the overall victory, but the Olympic bronze medallist would drop his opening game to Indonesia's Simon Santoso 19-21.
Chen recovered to win the second game, and then overcame Santoso for the title with a 21-7 victory in the third. China sweeps Indonesia 3-0 whitewash of Indonesia to claim its 4th straight Thomas Cup.