Watch Video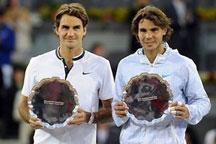 Play Video
The world's top tennis rivalry took center stage in Madrid on Sunday. Rafael Nadal and Roger Federer matched-up in their latest showdown. This one took place on clay at the Madrid Open final.
This was the duo's first clash this year, and both Nadal and Federer struggled to find their form in the opening exchanges of their 21st meeting.
It was not an easy road to the final for Nadal on his favorite surface, and Federer also faced a three-set tussle in the semi-finals, in one of the big tests on clay for both players.
Each star gained a service break the third and fourth games, before Nadal broke again in the seventh game. He made Federer pay for a string of unforced errors.
The second-seeded Nadal then saved four break points and he served out the set. The Spaniard finished with a forehand winner and took the first set 6-4.
It looked like Nadal grasped a firm hold on the match when he broke Federer in the opening game of the second set. But he was unable to finish off the Swiss master. Federer immediately evened the scoreline. Nadal came back with another service break to lead 3-2, but the world number one rallied again to level the score.
The players would go to a second set tiebreak. Federer squandered a mini-break lead twice, and found himself two match points down as his backhand broke down under relentless pressure from Nadal.
Federer saved the first match point, but could not stop Nadal on the second. Nadal grabs the straight-sets victory, after two hours and ten minutes of action in Madrid.
Rafael Nadal. Winning his 18th ATP World Tour Masters 1000 title, said, "Against Roger, you know, it is always a special match. We have a lot of respect for each other and Roger played well for moments. And both we had a little bit more mistakes than usual. But anyway, to play against him is very difficult."