Watch Video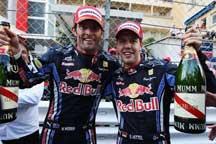 Play Video
Turning to Formula 1 and the biggest race in the series at Monaco. Mark Webber qualified on the pole, but could he finish first in an action-packed battle through the streets of the Principality on Sunday?
The sounds of F-1 cars bounced off the buildings and barricades with Webber looking to follow up his victory last week in Spain. The Aussie made a fine start with Red Bull team-mate Sebastien Vettel filing-in right behind him on the first corner. And Webber kept his advantage all the way to the end.
He crossed the line ahead of Vettel to give Red Bull its second one-two of the season. The pair sits atop the drivers' standings on 78 points with the Australian in front having two victories to the German's one. Red Bull will try to stretch its lead in the constructors' championship at the Turkish Grand Prix in Istanbul in two weeks' time.
Mark Webber, Monaco Grand Prix Winner, said, "The track was changing quite a lot during the Grand Prix as well - we had obviously backmarkers, we had a lot of safety cars, so we were tested quite often and, you know, getting the restarts right, getting the tyre pressure, all the basics which could still test you were in front of us today so very very rewarding win, and just absolutely elated. I mean, you know, to join Ayrton Senna (six-times Monaco GP winner) and those guys around here, it's a real blue riband event."