Watch Video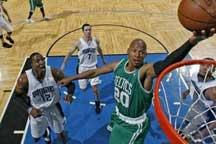 Play Video
The well-rested Orlando Magic finally got back into action in the NBA playoffs. They took-on the Boston Celtics in game one of the Eastern Conference finals in Orlando, but the Celtics came into the matchup with momentum on their side.
This is the second straight year the two teams have matched up in the playoffs. The Magic rallied from a game down with two straight wins and a trip to the Eastern final, and Orlando won three out of four against Boston in the regular season this year. But the playoffs come with added pressure, and the Magic would feel it down the stretch.
Boston's formerly-injured Kevin Garnett has been a difference-maker, and the Celtics now have their three superstars intact plus key contributions from Rajon Rondo and Tony Allen.
The Celts started strong and put the defensive clamps on Dwight Howard. Orlando's big man committed a series of turnovers and Boston led by 9 before the end of the first half.
The Celtics kept up the pressure with a Ray Allen drive for a score, a Garnett mid-range fall-away jumper, and a long three pointer from Paul Pierce. The three combined for 55 points 25 came from Allen and 22 from Piece.
On the other end, Howard could only mark-up 13 points for the Magic. Boston led by as many as 20 points, with Pierce doing even more damage from the inside.
The Magic cut into the lead with a second half run, but it was not enough. Boston sealed the match from the free throw line and locked up a big victory, 92-88, at Orlando.
Editor:Zhang Pengfei |Source: CCTV.com