Watch Video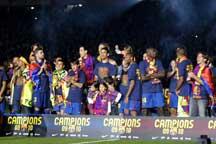 Play Video
Club soccer action from Europe on the final day of action in La Liga: either Barcelona or Real Madrid would walk away with the Spanish title. Barcelona's chance to clinch the championship came up first at the Nou Camp, against relegation-bound Real Valladolid.
Barca and its fans were fired-up from the very start, and the home side took the lead in the 27th minute. Barcelona's Pedro Rodriguez fired a cross into the box and Valladolid defender Luis Prieto managed to slice the ball into his own net 1-0 for Barca on the own-goal mistake.
Rodriguez got his second goal in a more straightforward fashion four minutes later. Lionel Messi and Yaya Toure set him up and Rodriguez planted a low shot into the net past Valladolid goalkeeper Jacobo Sanz 2-0 Barca.
Messi made it 3-0 in the 62nd minute. Toure made a dash to the ball, got there first and squared to Messi for the easy finish. Barcelona rolling with a big lead midway through the second half.
Messi got the 4th goal for Barca a little more than ten minutes later. He beat defender Pedro Lopez and landed the ball into the bottom corner. Barca's 4-0 win put the defending champs out of reach of rival Real Madrid, and the team and its fans celebrated the squad's 20th Spanish title.