Watch Video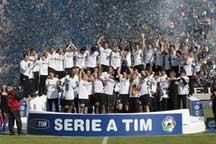 Play Video
Turning to soccer in Italy, where Bari completed a successful first season back in Serie A. The side would try to close out its season strong against Fiorentina, one of seven matches to wrap up the Italian club football season.
Cristian Stellini and Emanuel Rivas led the way for Bari as the team sealed the deal with a victory. The points put high-scoring Bari over a half-century for the season.
Palermo knocked off relegated Atalanta, but just missed out on a Champions League place on the final matchday of the Serie A season. Inter Milan sealed its fifth straight league title: Diego Milito answered the pressure of a goalless first half with a 57th-minute winner.
In the standings,Bari came in 10th, and AC Milan finished third behind Roma. But Inter stayed in command at the top, confirming its Serie A championship.