Watch Video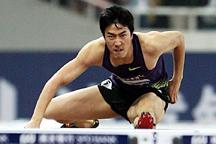 Play Video
A great field on hand for the meet, including Usain Bolt and Chinese hero Liu Xiang. Running alongside Liu was teammate Shi Dongpeng, who just won the title at the IAAF Osaka Grand Prix, but both would be in tough against American powerhouse David Oliver.
Former 110-metre hurdles world and Olympic champion Liu Xiang started in lane 5, Shi Dongpeng was in lane 7, and sandwiched between the two was American star David Oliver.
Oliver, has been running well lately, beating Dayron Robles last week.
Still dogged by the Achilles injury that knocked him out of the 2008 Olympics, Liu had a quick start, in contrast to the performance of current world champion Ryan Brathwaite, who pulled up in frustration after knocking down his first three hurdles.
Still, Liu was unable to match the hugely impressive performance of American David Oliver, who powered home in a season-best 12.99 seconds. Liu finished a commendable third, just behind fellow Chinese athlete Shi Dongpeng.
Shi Dongpeng, the IAAF Diamond League Runner-up, said, "I don't have enough strength down the stretch. The reason that I beat Liu is my neck is longer than him."
Liu, who's the IAAF Diamond League 3rd Place, "I am confident in myself all the time. But before, nobody could beat me and now I am losing to people who I have never lost to. It is truly a big challenge for me. I will try to find the problem, and solve the problem. And I think my training is a big problem, I did not have enough intensity in my training, which is not good for competition, so I will start with training."
Related stories
Editor:Zhang Ning |Source: CCTV.com