Watch Video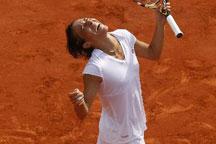 Play Video
Two unlikely tournament finalists would get their best chance to claim a Grand Slam title at the French Open on Saturday. Francesca Schiavone looked to become the first Italian woman to win a Grand Slam singles title. Samantha Stosur hoped to continue her incredible rise to the top of women's tennis at Roland Garros in Paris.
Schiavone tried to make history from Italy, while Stosur was bidding to become the first Australian woman to win a women's Grand Slam since Evonne Goolagong triumphed at Wimbledon in 1980. Stosur dispatched some heavy-hitting rivals. She topped four-time champion Justine Henin, world number one Serena Williams and Jelena Jankovic en route to the final.
But the underdog Schiavone stepped up first and she took the first set 6-4, behind a raucous crowd hungry for history in Paris.
Stosur saved two break points and held serve in the third game of the second set, and then finally broke the Italian's serve to move into a 4-1 lead.
But Schiavone caught up and forced a tiebreak. The first four points went with serve. Then, Schiavone scored the first mini-break with a backhand pass to take a 3-2 lead. The 17th seed never looked back from there. Stosur served at 6-2 down in the tie-break and finally mis-hit a backhand on match point. Schiavone wins her first Grand Slam title. At just under 30 years of age, she is the oldest first-time Grand Slam winner since Ann Jones won Wimbledon in 1969, 41 years ago.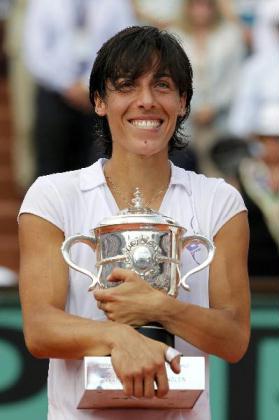 Francesca Schiavone of Italy poses with her
trophy after winning the women's final against
Samantha Stosur of Australia during their
women's final at the French Open tennis tournament
at Roland Garros in Paris June 5, 2010.
(Xinhua/Reuters Photo)