Watch Video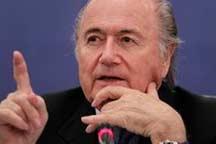 Play Video
After a stampede at a World Cup warm-up game involving Nigeria left 16 people injured, FIFA's top men addressed the media on Monday. They have promised that a repeat of the incident, spurred by the handing out of free tickets at the venue, will not occur during the World Cup.
FIFA President Sepp Blatter said, "First of all, we regret all the incident that have taken place and I am sure and you are sure that this is like an alarm clock but this will not happen in any match of the World Cup you can be assured."
FIFA general secretary Jerome Valcke said, "...it proves that we are right to say that you should never distribute tickets at the stadium on a match day. That's why again it's one of our principles and we will keep this principle during the World Cup. Also, in terms of organisation, please be sure that in terms of organisation we have when we organise a game, it is definitely higher than the one we have seen there."
Fans rushed into the Makhulong Stadium in Johannesburg, when the gates were opened ahead of Sunday's warm up game between the DPR Korea and Nigeria. A second surge suspended the match for ten minutes. 16 people, including one policeman were injured in the stampede. Police say tickets for the match were given away for free outside the stadium, leading to large numbers of people gathering outside. The stadium is not being used for World Cup matches.
Related stories
Editor:Zhang Ning |Source: CCTV.com