Watch Video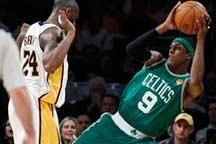 Play Video
After a fairly underwhelming performance in game one, the Boston Celtics were looking to get back on track and back into their series with the Los Angeles Lakers in game two of the NBA Finals. Boston, needing a win as falling down 0-2 would leave them in a huge hole.
After a foul-filled first game, the second started out the same way...Glen Davis called for the illegal screen. He and fellow big man Kevin Garnett....dealing with some foul trouble early.
Kobe Bryant also had a tough first quarter, he picked up three fouls...and would have a quiet first half. Kobe, called for the offensive foul, and could hardly believe it.
The story of this game, the three point shooting of Ray Allen. Allen, the owner of one of the sweetest strokes in the game was dialed in. He went 7 for 7 from behind the arc in the first half...and knocked down 8 triples in all, a new NBA record. Allen with 32 on the night.
The Lakers find themselves down by nine late in the half...when Kobe gives his team a boost. The steal and the long three bringing the Lakers within six.
4th quarter, and Kobe's foul problems continue...another offensive foul. His fifth of the game, sending him to the bench. Kobe would finish with 21 on the night.
Also key for Boston in game two, the play of point guard Rajon Rondo. He made plays all over the court on the way to a triple double. Rondo with 19 points 12 rebounds, and 10 assists. The Celtics, looking like the Celtics in game two as they down the Lakers 103-94 and leveled the series 1-1.
Boston Celtics beat host Los Angeles Lakers 103-94, drawing
the best of seven series 1-1 at the 2010 National Basketball
Association finals Sunday in Los Angeles. (Xinhua Photo)