Watch Video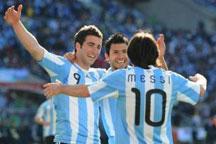 Play Video
Full Video: 1st part >> 2nd part >>
Argentina took on South Korea with the leadership in Group B at stake, at Soccer City in Johannesburg.
First half action 16 minutes in South Korea's Park Chu-Yong hits an own-goal and gives Argentina the lead. An Argentina cross landed on Park's knee and the ball went past his own goalkeeper. Diego Maradona celebrates a 1-0 Argentina advantage.
Argentina marked-up another one at the 32 minute mark Nicolas Burdiso headed to Gonzalo Higuain for a close-range score. Great heads-up teamwork makes it happen for the South Americans...2-0 over South Korea.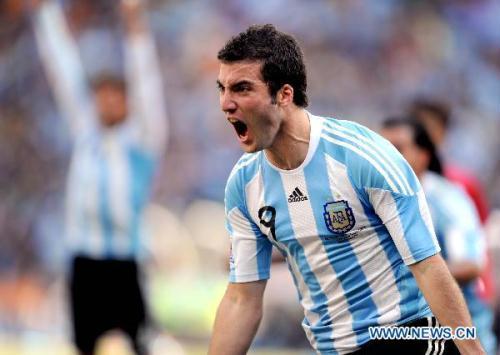 Argentina's Gonzalo Higuain celebrates scoring during a 2010 World Cup Group B match
between Argentina and South Korea at the Soccer City stadium in Soweto, suburban
Johannesburg, South Africa, on June 17, 2010.(Xinhua/Wang Yuguo)
South Korea got on the scoreboard in added time. Lee Chung-Yong won the ball in the area and beat goalkeeper Sergio Romero. He made the score 2-1, Argentina with the lead at the half.
Late in the second half,Higuain scored again. He was in the right spot for a rebound from a blocked shot. Higuain gets an easy score for 3-1.
Then Higuain made it 4-1 at 80 minutes. Messi passes, Sergio Aguero delivered the pass and Higuain came through again. He scores a hat trick Argentina beats South Korea 4-1 to stand atop Group B.