Watch Video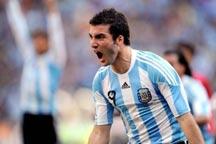 Play Video
Over in Johannesburg's Soccer City Stadium, Argentina took on South Korea with the leadership in Group B at stake. the game was a very close going into the second half but one substitution made all the difference.
Sixteen minutes in...South Korea's Park Chu-Yong hit an own-goal handing Argentina the lead. An Argentina cross landed on Park's knee and the ball went past his own goalkeeper. Diego Maradona celebrated a 1-0 advantage.
Argentina marked-up another one later in the half. Nicolas Burdiso found Gonzalo Higuain for a close-range score. Great teamwork made it happen for the South Americans...2-0 over South Korea.
South Korea got on the scoreboard in added time. Lee Chung-Yong won the ball in the area and beat goalkeeper Sergio Romero. That is how it would stay heading into the second half.
Late in the second half...Higuain made it three one. He was in the right spot for a rebound from a blocked shot.
Then Higuain made it 4-1 with ten minutes left. Messi passes, Sergio Aguero delivered the pass and Higuain came through again earning him a hat trick and becoming the competitions top scorer. Argentina beats South Korea 4-1 and stand top of Group B. Their coach Maradona is enjoying himself.
Argentina coach Diego Maradona said, "I treat my team as one big family, my team are in top form now, I can send every one on the field as those guys are amazing. They are eager to win. Also, they did their job very well."
South Korea coach Huh Jung-Moo said, "Today's match was very hard. My players tried their best but couldn't control the rhythm, I think that is the mean reason why we lost. On the upcoming match against Nigeria, we will give our best."