Watch Video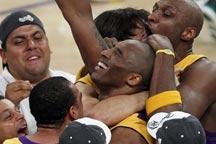 Play Video
The seventh and last game of the NBA final between LA Lakers and Boston Celtics is the first Game 7 in the finals since 2005. Previously in the NBA history, Lakers and Celtics met four times in Game 7 of the finals and LA won none. See if they can achieve this time.
Both teams were very tight in their early performance with rather low percentage of shots. Rasheed Wallace was facing Paul Carsol and had very good judgement and timing for interuption of the LA attack. On the other end, the Lakers maintained their effort and advantage in rebounds. Kobe Bryant clearly intended to save something for later as he didn't make one shooting attempt until five minutes into the game. An extremely fierce competition saw quite many confrontations and fouls. Boston continued their accuracy at the free throw line to have 9 for 9 by half time, while LA was only throwing in 50 percent. Celtics lead 40-34 by half time.
Kobe finally gained a two-point shot 4 minutes in to the 3rd, to cut the deficit back to within ten points. Shooting rate gradually rose on court for both sides. A thourough comback was difficult in the 3rd quarter for LA. They only shrinked the deficit to four points with the effort from Odom in the 11th minute. 57-53.
Averaging 29.5 in the last 6 games, Kobe only made 5 for 12 to score 13 points by the 4th. Casol's shot closed in for 57-55, while Pierce felt the pressure to shoot more points.
5 minutes into the 4th, Artest had a crucial 2 plus 1 to catch up with Boston for 61-all, the first draw since 1st quarter. Lakers finally come back 8 minutes into the 4th, with Bryant's free throws followed by his own jumper.
The Boston guns fired weakly while the Celtics send more free throws to Lakers.
Los Angeles Lakers forward Pau Gasol (C) goes to the basket as Boston Celtics center
Rasheed Wallace (R) and forward Kevin Garnett defend during Game 7 of the 2010 NBA
Finals basketball series in Los Angeles, California June 17, 2010. Lakers trounced
Boston Celtics 83-79.(Xinhua/Reuters Photo)