Watch Video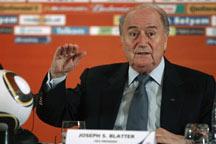 Play Video
FIFA President Sepp Blatter has apologized to the Mexican and English football associations for errors by officials that helped eliminate them from the World Cup. He also said soccer's governing body will "reopen the file" on video technology, at a meeting of its rule-making panel in Wales next month. Matt Stuttard has more.
On Sunday, England were denied a clear goal against Germany, when Frank Lampard's shot bounced off the crossbar and over the goal line.
Germany went on to win the match 4-1.
Later that day, Argentina's first goal in their 3-1 win over Mexico was scored by Carlos Tevez from a clear offside position - but it was allowed to stand by the referee.
In March, FIFA president Sepp Blatter ruled out non-human intervention in football. However, this apology could be seen as a possible change of heart.
Sepp Blatter, FIFA president said, "I have expressed to the two delegations that have been directly concerned by evident referees' mistakes, I have expressed what I would say the apologies and I understand that they are not happy."
The FIFA chief says football's governing body will take another look at the issue of video replay technology after the tournament.
He said the International Football Association Board would consider changes at a July meeting.
While other major sports, including tennis, cricket and baseball deploy video technology as a tool to assist officials, football has steadfastly refused to do so, with the major arguement being that it would slow the game down.
Blatter has previously stated that it is better to leave things as they are, and put up with the occasional error.
Related stories
Editor:Jin Lin |Source: CCTV.com