Watch Video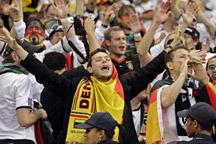 Play Video
German fans reacted in elation over their national team's crushing victory, while Argentine fans were left in devastation. Let's hear fans' views from both sides.
German fan, Berlin, said, "It was definitely very cool. I thought it was going to end 3-nil, but 4-nil tops everything. We ripped Argentinia to shreds - they're out, they can go home."
"Argentina were strong in attack, but luckily it was 2-0 our way. Then it went on to be 3-nil, and 4-nil. We kept a clean sheet. Germany's defense was amazing."
Argentine Fan, Buenos Aires, said, "Bad, it was our worst moment. Truly, awful."
"It is a great disappointment. The end of our World Cup dream. I hope that we can move on from this loss with dignity."
Related stories
Editor:Yang Jie |Source: CCTV.com