Members of the International Olympic Committee have inspected sites in London in the lead-up to the 2012 Olympics.
IOC President Jacques Rogge praised officials after visiting London's Olympic Stadium on Monday. Accompanied by London organizing chief Sebastian Coe, Rogge visited the 80,000 seat stadium, where builders are still hard at work on the 537 million pound structure.
To mark the visit, Rogge and Coe helped drill the stadium's 2012th seat into place. Coe said building work is on schedule. Rogge was satisfied what has been achieved so far at the Olympic Park.
Jacques Rogge said, "Well I am very pleased to see the tremendous progress of the works. I mean the stadium is almost finished, it is state of the art, at the same time it is a beautiful and intimate stadium. Very happy."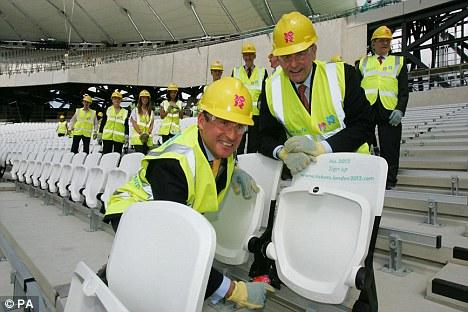 Picture perfect: IOC chief Jacques Rogge and Sebastian Coe pose inside the
Olympic Stadium