Watch Video
Play Video
South America's lone survivor faced one of Europe's most dynamic squads in a bid to advance to the final game of the 2010 FIFA World Cup. Uruguay aimed to make its surprise semi-final appearance count against the Netherlands side which conquered mighty Brazil in the previous round.
The Dutchmen took charge in the 18th minute. Giovanni Van Bronckhorst blasted a direct shot to the Uruguay goal. He found space on the left and launched a 40 yarder to hit the target. Van Bronckhorst beat Uruguay's Fernando Muslera and connected with the inside of the post for one of the most spectacular goals of the tournament so far. It could be the final World Cup goal for Van Bronckhorst. It was his first of this tournament and only the sixth of his 105-match international career 1-0 the Netherlands.
Uruguay equalized in the 41st. Diego Forlan struck back with another powerful long-range shot for his fourth goal of the tournament. Netherlands goalkeeper Maarten Stekelenburg got a hand on the ball, but couldn't stop it and Forlan tied the match going into halftime. The two-time champs from Uruguay were set for the second half, but Forlan was less than 100 percent.
The Netherlands found the key to Uruguay's defense midway through the second half. Wesley Sneijder scored the first of back-to-back goals to give the Dutch side a 3-1 advantage. Sneijder scored his fifth touranment goal when his low shot was deflected by Pereira and past Muslera...Holland up by 1.
Then Dirk Kuyt (KOWT) led Arjen Robben with a cross from the left side three minutes later. Robben headed home for the score that made it a 2-goal margin for Holland.
Uruguay would not quit. Maximiliano Pereira scored in injury time to create a frantic finish. But the Netherlands hold on for a 3-2 win, and advance to the World Cup championship final for the first time in 32 years.
Berk Van Marwijk, Netherlands Coach, said, "I'm very glad and very proud. Holland is such a small nation, but we are not small in football. Ever since the beginning of my career as a coach, I have had a belief. To achieve the goal, one must trust in themselves and try hard, which would be a long course. Now we have proved ourselves for very good football and success over giant nations. "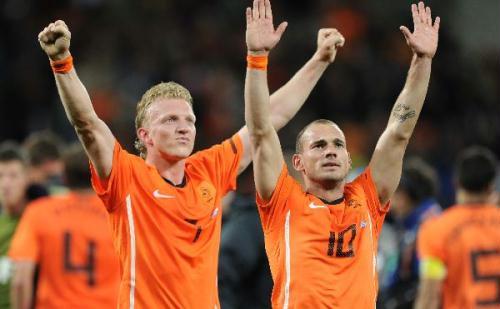 Wesley Sneijder (R) of the Netherlands celebrates with Dirk Kuyt after the 2010 World
Cup semi-final soccer match against Uruguay in Cape Town, South Africa, on July 6, 2010.
The Netherlands won 3:2 and is qualified for the final.(Xinhua/Chen Haitong)