Watch Video
Play Video
Spain and the Netherlands are starting on the road to the final game in the 2010 FIFA World Cup. Spanish defender Carles Puyol headed the game-winning goal in his team's semi-final against Germany. He was one of the players talking about Spanish success at the World Cup.
Carles Puyol and his Spanish teammates took part in a training session on Thursday, and hundreds of their loyal followers arrived to watch. Spain will meet the Netherlands for football's greatest prize. Neither side has won it before. Puyol is still enjoying what may be the most important goal of his career, his third in 89 internationals matches.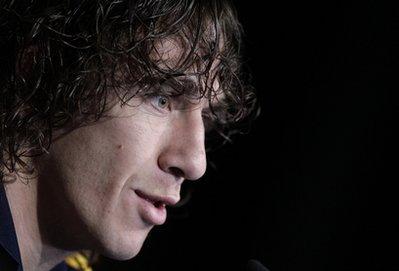 Spain's player Carles Puyol speaks during a press conference after
a training session in Potchefstroom, South Africa, Thursday, July 8,
2010. Spain will face The Netherlands in the final for the World
Cup on July 11.(AP Photo/Daniel Ochoa de Olza)
Carles Puyol said, "There are moments like this you live for, especially for a player like me who is not used to scoring goals in a game so important. But everything happens so quick, so what you want to do is to focus, because there is another game left and my job is to defend - and so we are in the final."
Netherlands coach Bert van Marwijk declared his side will not be afraid to face Spain in the final. The manager refused to talk about how the Dutch can thwart the Spanish passing game, but admitted the two finalists share a football culture.
Bert van Marwijk said, "Maybe Spain is influenced by Barcelona, and Barcelona is influenced by Johan Cruyff and Rines Michels and that is a big compliment for the Dutch football. Maybe it is a little ironic in the way that you say that, but I don't think in that way. We respect Spain in the way they play and Barcelona also - we want to do it in our way and it looks like how they play."
Related stories
Editor:Du Xiaodan |Source: CNTV