Watch Video
Play Video
The logo for the 2014 World Cup in Brazil was unveiled on Thursday at a ceremony in Johannesburg attended by Brazilian President Luiz Inacio Lula da Silva.
The emblem is said to represent a green World Cup as well as the vibrant colours of Brazil. The Brazilians are considering dividing the huge country into four regions in which teams would be confined during the earlier rounds in order to cut down on travelling.
However, the Brazilians face a huge job to improve their creaking stadiums and transport system while soaring urban crime is a big concern and they had learnt from security issues in South Africa.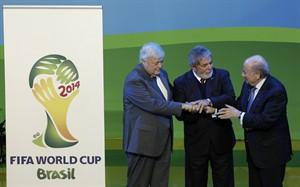 Brazilian President Luiz Inacio Lula da Silva,
center, shakes hands with FIFA President Joseph
Blatter, right, and Ricardo Teixeira, President
of the Brazil 2014 Organising Committee, left,
during the official unveiling of the emblem for
the Road to Brazil 2014 Soccer World Cup at the
Sandton Convention Centre in Johannesburg, South
Africa, Thursday July 8, 2010.(AP Photo/Themba Hadebe)
Ricardo Teixeira, 2014 World Cup Organising Committee Chairman, said, "The problems we have in Brazil about security are the same in the rest of the world. I see violence in all countries that I visit around the world.What we did was to send a large group of security people to Africa - and they stayed several days here, following the World Cup to take notes on everything that was important for Brazil at the issue of security."