Watch Video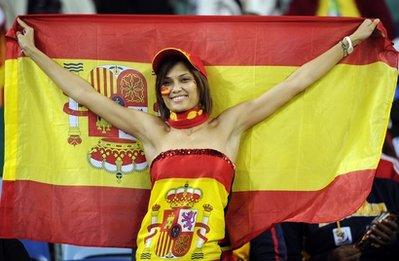 Play Video
Travel agencies and flag makers in Spain have seen business pick up, after the Spanish football team secured a place in the World Cup final following their 1-nil win over Germany.
Travel agencies are being flooded with enquiries about last minute deals to Johannesburg to watch the championship match against the Netherlands. As fans rush to buy tickets to see their national team play in the World Cup finals, flag manufacturers have also seen business boom, with demand skyrocketing during the tournament.
Cesar De Castro, Factory Manager, said, "It's a big influence; the football is helping us sell lots of flags. It was unthinkable before that people would hang a flag from their balcony but now that isn't the case. Everyone is wearing the flag, they hang it from their balconies, they are proud, they are wearing the shirt and scarf. We have multiplied our production of flags five-fold."
A Spanish soccer fan waves a Spanish flag as he celebrates from a
car after the World Cup semifinal soccer match between Spain and
Germany, in Madrid, on Wednesday, July 7, 2010. Spain won the match
1-0 and advance to the final to meet the Netherlands.(AP Photo/Paul
White)