Watch Video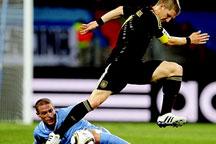 Play Video
The world turns its focus on South Africa as the 2010 FIFA World Cup reaches its final round. Germany took on Uruguay to settle third place. Which team would put on a bronze medal performance in the tournament's next-to-last game?
Thomas Mueller lit up the scoreboard first. He knocked in his fifth goal at the World Cup, and gave Germany the lead. Uruguay's Fernando Muslera stopped Bastian Schweinsteiger's first attempt, but Mueller was there to clean up and give his team the advantage in the 18th minute...1-0 Germany.
Uruguay got the equalizer ten minutes later. Edinson Cavani slid a shot past German goalkeeper Hans-Joerg Butt in the 28th...the South Americans tie it at 1 going into halftime.
Uruguay came out strong in the second half. Diego Forlan volleyed in Egidio Arevalo's cross in the 51st minute. Forlan scored his fifth goal of the tournament and Uruguay led 2-1.
Germany leveled five minutes later. Muslera misjudged a cross near the Uruguay goal, and defender Marcell Jansen came through with the opportunistic goal...Germany 2, Uruguay 2.
The score stayed tied until the 82nd minute. Germany's Sami Khedira scored with a header for his first international goal, and the game-winner for the Europeans. The Uruguay defense failed to clear a corner kick and Khedira showed up in time for a dramatic finish. The goal ended Uruguay's hopes of beating Germany for the first time in 82 years. Mueller and Forlan are now even at five goals with David Villa of Spain and Wesley Sneijder of the Netherlands. Germany wins third place for the second straight time in the World Cup.
Joachim Loew, Germany Coach, said, "This was some kind of final and we did everything for it. We have a young team and set an exclamation mark here and can reach more. My team will going home with a very good feeling. We achieved more than we perhaps expected."
Oscar Tabarez, Uruguay Coach, said, "I don't think it's too much vanity to think that if we improve a little, we can aspire to certain prominence in future international tournaments."
Editor:Zheng Limin |Source: CNTV.cn